New to Couch$urfing and you just signed up? And you clicked on the link that says "Continue"? Great! You are now at the page that we call the We-Trap-You-Page or also "Step 2″. This step is to verify that you really are who you say you are. Sounds good, right?

Now you see information about money and how great verification is, and a form that is for you to fill in. "Can I deal with that later maybe?" is probably what you think. But no! You can't find the next continue button! Help! Where is the "skip this" button? How do I get out of here? I thought C$ was for free?
And what? Oh you live in Denmark? Bad for you, your suggested minimum donation is set to be $69.71 currently. And don't you even think of paying less than that "recommended" amount because you won't get through the form!
Ah, you live just across the border in Germany. That's cool, you then pay $48.37 dollar less ($21.34). That's 3 times cheaper for 5 kilometer! Hey, didn't Casey just promise the community: "Just because we're not a non-profit doesn't mean we're actually "for" profit"
Anyway. No worries. If you have no money, you can still become a member. As Casey wrote before, "The CouchSurfing features that you use today will continue to be free". To help you further, you can apply for free verification through a verification scholarship.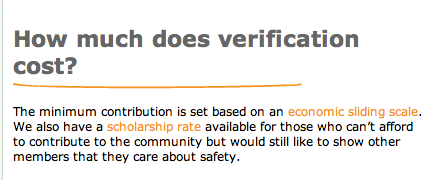 But unfortunately the page doesn't give you much information, and it still tells you that you have to pay (oh did the tech-team again release something without talking with communication dept? Where is Casey when you need him? Oh wait, he's partying at Burning Man!)
And in despair you go to the address-bar and type: http://couchsurfing.com and pfff, it finally works.