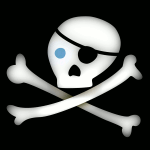 Our Alaska mirror blog has ruffled some feathers. Somebody changed the CouchSurfing blog feed. Instead of the whole post being included in the feed, now only the excerpt is included. So anyone reading the blog in a feed reader has been highly inconvenienced.
I'll bet some clever bod thought this would stop our mirror blog. Wrong! It'll take more than a little inconvenience to keep us pirates down. I'm pleased to report, that after a brief outage, the mirror blog is now back in full working order, with full post text.
So if you want to read the blog in your feed reader, subscribe to our feed instead, and get the comments!
We have won the battle, but I suspect this will not be the end of the war. As a Sun Tzu disciple, I have studied the enemy closely. I have anticipated their next seven moves. Fear not, their incompetence will not stand in the way of democracy and freedom. The pirates wil overcome their foolish attempts to quell free speech. Vive la revolucion!