If I read the 2008 CouchSurfing Inc finances (citation) correctly, CS Inc is on track for income in excess of $600'000 USD this year. Contributed support for 1 Jan – 31 Mar is listed as $155,616.73.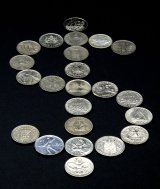 Web/ Internet/ Host Fees – $ 2,960.59
Telephone & telecommunications – $ 2,208.03
Equip rental & maintenance – $ 13,923.46
Salaries of Professional Staff – $ 19,384.68
Payroll Taxes – $ 1,955.63
Office Expenses/ Supplies – $ 3,195.01
Rent, Parking, and other occupancy – $ 4,777.81
Meals/ Groceries – $ 10,895.37
Total cost of running the site around $19'092.08. Total salary bill (payroll plus taxes) $21'339.63. Total expenses related to "staff" around $40'207.82. A total of more than $10'000 spent on meals / groceries!
The total "staff" cost is more than twice the actual hosting cost. Yet since the organisation has added so many "professional staff" I see little difference in the actual site. Few new features, little increase in stability. Certainly no change in transparency or solving any of the "we're too busy to publish details" problems.
CouchSurfing might well have an income in excess of half a million dollars this year. Looks like it's becoming a viable business opportunity.